TV Posts Tagged as 'Creepy'
---
Rating key:
Welcome to Errattic! We encourage you to customize the type of information you see here by clicking the Preferences link on the top of this page.
Golden Bachelor, The (2023)
Daddy couldn't help himself from trying the new luggage he won on Let's Make A Deal. He showed Leslie how wires helped him move around the house and bestowed on Theresa, only sexual regard.
20-Nov-2023
Daddy gold was forced to walk and run, though I believe the run was CGI'd. Gerry was very vague when discussing how he felt about Theresa to her grandchildren and daughter. When he eye fucked Theresa's daughter she reacted like she liked it. I'm sure she wasn't listening to anything he was saying because he was saying that he wasn't in love with her mother. Either he let the cat out of the bag or he's a better actor than I thought. I ponder why Gerry is called Gary when it should be Jerry.
03-Nov-2023
Palmer didn't eyefuck anybody because he wasn't alone with them. Oh well, there's still paradise. Is the show on realtime? Do they walkie talkie what the public thinks to the producers? They made daddy walk. He only walked a few steps but every time he asked to walk a girl out he was holding on to them for dear life. When he opened the car door for a dumped, the producers rigged his suit jacket to hold him up. Good wire work. If talking about your ex on a first date is rude, why does it get a pass in old age? We found out that daddy is not made of gold, he bruises whenever a woman touches him. Maybe, she's made of fire.
27-Oct-2023
What pickle ball means: Age deteriorates the quality of the vegetable, but rarely causes them to actually become unsafe for consumption IMO. Pickling is used to preserve foods and in the environment of brine, they last pretty well forever. That said, the texture and flavorings are going to get funky after a couple of years.
20-Oct-2023
Whilst the ladies were slapping old man's balls our daddy gold was sitting. When he appeared on an ATV he sat throughout. He made out with any lips that came towards him, sitting down. The rose ceremony took much longer because daddy had to sit after every rose. He pretended to be a gentleman but we know the handicapped woman helped him walk out. That lady whose daughter was getting married as she was clapping balls didn't give two shits. Mother is not a title but an action. I'm sure the son-in-law was relieved she wasn't there to fuck up his wedding. Becoming ill was karma. Not telling women playing I've Never... that she was milk intolerant was like going to an orgy and having sex with everybody whilst knowing you have crabs. Captain Sandy with a wig has munched on ladies before but is a bottom, now. A judge Judy superfan told another contestant to ziploc her joy.
20-Oct-2023
I tuned in because I wanted to survey the old hunk. There is no way a 72 year old can look that good. He's handsome, a people pleaser, tastes like Spanish Fly and wants to fuck. He proved his age when it took him about twenty minutes to put on his shoes. Good editing. Wink, wink. There were no Goldiggers amongst the 20 but I noticed a few madams and ex whores. Including younglings would have created the tension women of that age experience. Most of the elder women were loopy, defining an era that's no longer safe. I like Ellen. I don't know why but I do. One of the women looked like Captain Sandy in a black wig, the Maude impressionist was kicked out, Jesse eye-fucked the bachelor and I felt grandpa's burden. Every time he votes out an eccentric aunt, America will judge him. "The man is dumping grannies!"
30-Sep-2023
---
Jake Wheeler is becoming quite a twink daddy. Devon Evans is aging in reverse. He looks like a kid. Lexy is gutsy without a personal life to lift her up. Jennifer T. and Jennifer C. need to battle for best bitch titles. The writers toned down Jennifer's character and shenanigans and she beams because of it. Devon Sawa has the best character, up to-date. I kept seeing Sawa's name on the credits but couldn't match him to his character, until now. Wow. You mean he was the hot method actor who plays the President? He is as precise in his acting as the puppeteers were on Chucky. The lip sync is perfect, different movements are being explored and the bastard is as funny and wicked as ever. The focus of this season is The White House and aging. Love it!
03-Dec-2021
---
Fall Of House Of Usher, The (2023)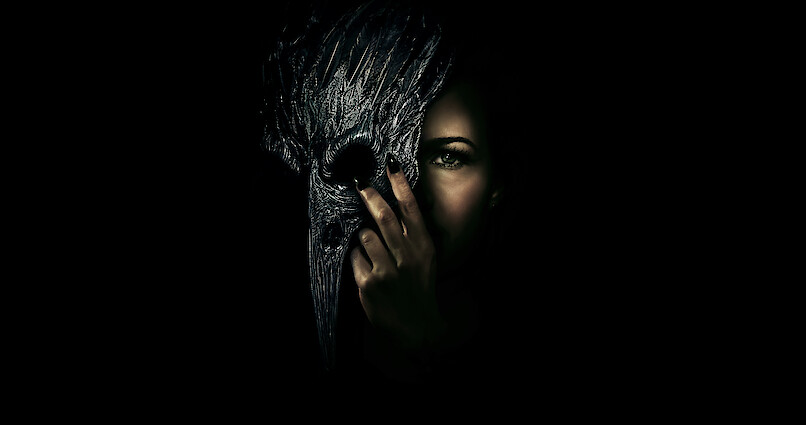 I understood the excuses but I didn't get the obscurity. The finale was a realization of how much of a merry-go-round the production put us through. The Final Destination kills should have ascended from that. When you add magic to horror it teeters on fanto realism. It made my head overload...with questions. Where was Lenore when daddy redecorated her mother's room? She asks to see her mom 5 days later? I believe one of the Dupin's got taller? Bless you, Sir Hamill. Once his character clicks we look forward to seeing him again. The mumbo jumbo accommodated what was easiest for the storytellers. The merry go round speeds up, there are few surprises but the cast and dialogue are superb. What fabulous creature is Gugino's character supposed to be? Is Pinhead her boss? I hope it's the girl one.
21-Oct-2023
SE5. There are so many crisp performances to marvel at. The story captivates but the horror aspect diminishes it. Whenever he gets a vision, we realize how the next victim will die. Stretching the story doesn't mean much if it once ended up in the trash because it contained too much information. The flashbacks are served nilly willy. The saboteur has no meaning but I love her. Poe's themes are observed but not acknowledged. When a creator succumbs to the title of the story he is manipulating things to fit not click.
20-Oct-2023
S1E2. Succession musical score adaptation is too blatant and soon to describe rich family hierarchy. The actors play it well but the characters are as interchangeable as their sexual proclivities. The scares are great ideas that are poorly executed. The mother's beginning is a testament of that. It should be scary but it's not, it didn't grip or create empathy. Flanagan name drops everything but the art he's pilfering. The story does not flatter Gugino and her character is beyond mysterious. I heard Hamill do a Joker laugh and I was amused. Flanagan still hasn't figured out how to shoot in the dark. The admirable parts are the ones created by accident.
19-Oct-2023
---
Face of Evil (1996)
Tracey Gold scrubbed her good girl identity to become a misunderstood feminist. The character runs away: from home, relationships and deep connections. Gold is a wild kitty playing life like a board game that she controls. Her forgiveness is theft and death. She assumes the identity of a kill to exit town but is tornado'd into becoming her. Shawnee Smith stirred instant empathy by being introverted, persevering, cute, desperate and clumsy. The girls become roommates, make connections, enjoy each other's company as we get to observe them. Mary Lambert directs with minute blood spills and no blows. How does evil get written on your face? She tries to explain that. Shawnee's father was a daddy wet dream for everybody except for the bitch waking him up. Perry King was carved with Kryptonian essence. His Highlander was superb but the tits and gorgeous craggly face were better. Lambert directs an intellectual showdown, the fight was fun TV Trash and Ms. Gold channelled Elizabeth Montgomery to eerie perfection.
11-Apr-2023
---
I can't identify with the fairy tale.
27-Feb-2023
There's an odor of mendacity and I'm not sure where its coming from. A different spice gets added every week to give that child's jokebook a break. They run a bath, the water boils, the barbecue is on and we already know who's going to fry. The spices are becoming experiments in art, a lack of inspiring action and insecurity in storytelling. Ellie is the kind of girl that would spit on deaf boy's food when no one is looking. The character is lacking baby Dakota Fanning genius. Papi Pedro's melody sways us to stay for the main course but the thing they think is gumbo, is not. It's, maybe, a protein shake.
13-Feb-2023
Not saving boys or giving them parts in movies is becoming a Hollywood tradition. A snarky and petulant baby girl is rescued so she can realize her dream of becoming a toxic man. Pascal is the footman on the rescue mission and the only one forcing his acting talent to burst. Anna Torv is saddled with being a man whose deep scars hide a harsher man. It's an eerie Walking Dead iteration that seems to add nothing worth noting.
17-Jan-2023
---
Too Hot To Handle (2020-)
Oh fuck. Monumental nudity not allowed. Boo!
18-Dec-2022
S4E3. The hornies are back. The series offered light nudity because they can and should. They served two pretty safe pipe extinguishers, one knockout but no monumentals. We're talking James and male ass here. He's the monumental that hasn't shown.
12-Dec-2022
Yo, call a doctor! The human race is hornier than we thought. It's not just us, its everybody! The children are fucked!
03-Jul-2021
No sex games, stripper parties or porn stars performing anatomy tricks. No Casa De Amor with an hour free of rules to tempt anyone. A lame exercise in controlling the libido does not a better date candidate make and I have no idea what point it's trying to make. (The winner takes home about $12.00 after taxes.)
19-Apr-2020
The norm is hornier than I thought. Love Island Castaways land on Mt. Celibacy and are tortured into going straight. The women are boob jocks and the men prance around blowing bro bubbles. The understanding is that what an independent woman wants, is a servant. It's not daring or tacky, not willing to titillate on a channel that permits it and not willing to locate a winning politic. "Tom Holland future" is an eerie panty shredder, women are still reaching for the biggest/complicated things, unruly racism is itching closer to our faces and Jesus left because he couldn't stand them.
18-Apr-2020
---
AHS: NYC (2022)
It stayed true to tradition and didn't end with a bang because they yucked it up with mumbo jumbo. Ryan and Co. are gone, lets' show them what we can do. Everything except reigning it in. Add a little magic over here, irony over there and a preach or two around the corner. Charlie Carver's observations as a writer allowed him to present real gay dilemmas. That's a great contribution. The ladies brought depth, strength and full watt. The Brian De Palma glow, was class. Art shouldn't have to explain itself, though. It just is.
04-Dec-2022
Ryan & Co. serve enough gay meat to feed a Texas Chainsaw Massacre. The stories intertwine nicely. Gay is not what it's cracked up to be. We live life waiting for our perversions to be rewarded. It never happens. I have to disagree with the politically correct's hate towards cops. In my day there were good cops and bad cops, like Jedis. A lot of the time, the good cop was gay. I am thankful for that. You almost want to look away every time that smart begins a story because a shitty end awaits it. Russell Tovey peaks our interest with egg-shaped ears, ass encapsulation and making it overwhelmingly and illegitimately hard to listen to a foreign accent without cumming. Zachary Quinto is wolfy and orgasmic. Charlie Carver epitomizes an innocent victim. Joe Mantello is the kind of daddy you want to breathe a moment of life into. Isaac Cole Powell is a body you can only dream about. I know they are going to fuck it up but I'm going to relax and enjoy the ride.
25-Oct-2022
---
Inside Man (2022)
How a good person can be lead to kill. Stanley Tucci is elegant and perceptive as a death row inmate who helps investigate and solve crime. Atkins Estimond supplies "Watson" cuddliness. David Tennant spirals like a rabid dog. The wife is a frantic lunatic and the tutor is the "Karen" that's asking for it. It flourished in the beginning when we were blinded by its freshness but once we analyzed the idiocy of it all, it didn't make much sense. The deductions are grabbed from thin air, some of the reactions are not reasonable and by the end I was irked. Why didn't they just burn the stupid thing? Why did the pervert have to be mentally challenged? All of my perverts had normal capabilities and didn't freak people out. Why are perverts granted mercy but "Karens" are unforgivable? Who gives their perverted porn to a vicar? Your mama don't want it in the house, smash it to smithereens. Yes, anyone can become a killer but many others don't. They are called good dead people.
05-Nov-2022
---
Sins Of Our Mother (2022)
The most devious mother is the one that makes everybody think she's a great parent by constantly tooting her own horn, garnering prizes and adulation from an unsuspecting public and using her children's pain as confirmation that she is great. The woman in question is more of a monster than a sinner. Grandma blames a religious cult and a surviving child is a bundle of confusion. The good mom monster guise never lets up, even when the bloody bones are in her face. Everyone covers for everyone else, monster learned to lie from mother grandma and the murdering qualities from having children. We will never know how it happened because mother won't allow it. It might tarnish her image.
30-Sep-2022
---
DAHMER: MONSTER (2022)
Cinematic art ceases during wind down when Ryan's team inserts modern politics into the victims' families' mouths. Little sympathy is garnered due to the hypocrisy that they expect the police to protect them but be hands off if they themselves commit a crime. You can't have it both ways. The sandwich inspired its most chilling scene. The addition of another gay monster killer paralleling the present one is terrifyingly well done. Evan Peters never lets go of his disguise, Richard Jenkins slaughtered, unrecognizable Molly Ringwald had moments, the actor who played Jesse Jackson was eerie good and Niecy Nash's character stayed too long but she remained great. In the end, everyone exploited a man who felt alive in killing because he was invisible through life. It's a disservice to the victims if we don't learn to protect ourselves from it instead of denying it. Dahmer had the last laugh. He is ever more present and his surroundings are all but invisible.
27-Sep-2022
S1E4. Evan Peters takes us inside a gay serial killer's monster bubble and he gives the impression that his art will be popping iteration balloons for years to come. Niecy Nash is that bossy bitch neighbor that's always in people's business that no one wants to hear but gets politically redeemed by being the right amount of bossy. Nash holds the note a second too long but her character sings. Richard Jenkins used craft in telling the story of a parent that feels pain for raising a monster. Michael Learned reminded me of mama Walton but later, vanquished it. She embodies the bitter old woman that supports you to be whomever you want as long as its made up at church. Did she inspire his racist thoughts? The show obsesses over bloody squishy things instead of sexy, kinky things. I hope it switches. Man's true nature is exposed during sex. At that time, the community agreed that he was scary as fuck because we would have fucked him...and died. Only a victim can describe a monster and only a monster can describe his family. The series proclaims that mothers should not have children if they are mentally suffering, a weird child best ignored is not a happy child, a grown father dissecting animals with his gay kid encourages human devastation, daddy keeps encouraging human devastation because he can't beat his wife and cops get punished for being sensitive to gays. Evan's thought process is to lay blame on the parents and make himself accountable for the joy that chaos brought him and because only fucked up parents can create such a fucked up kid.
23-Sep-2022
---
Married At First Sight Australia (2015-) 
My 12 year old cocksucker swallowed Hades' cum and it tasted like a raspberry margarita. Pretty boys don't need to try as hard in relationships when set up with insecure mole faces. Hercules is not that hot because he smells like a chimp. Daniel did not pass the good dick test. The horse is ashamed to admit that she was set up with a fart. Al fixed his wife by shoving his Bizarro Colin Jost dick inside her. Married women who find solace prescribing pity to a newly single newlywed are sluts.
09-Jun-2022
Hades arises from his tomb to test humanity's tolerance for truth. A woman can only fathom a dream if a gay man concocts it. Man losing his hardon for a cultural thing is a real thing. He's bald Jerry, is no longer sexually gratifying his ick. Brent is sweet to make you fat and incapable of moving when he cleans you out. Al Perkins always looks surprised to fuck. He's prettier than a boy bander and is successful in bed. That's not possible! What is his crime? A giant ear bit texan should not have to explain himself to a pretend Hillary. Maybe he hates you because you're not doing Asian right not because he hates your culture. Hades set our dicks on fire.
06-May-2022
Season 6 was withheld from us because we are not mature enough to handle emotional failure. Hades and his coven interpret every relationship based on a fairytale and are genuinely horrified when reality proves it untrue. Hades unleashes romper terminators to seduce Ares and Hercules to ignite the audience and insult the wives. I could taste the master's lava. I threw up but didn't explode.
01-Oct-2020
---
Insiders (2021)
Future homeless are secured in a glass house to compete in an experiment that has them auditioning to win money and fame. Nothing is what it seems. The actors are award winning, the contestants are frantic and the host is a delicacy. The cruelty is unbelievable. Reactions from participants are placed above their mental health. I questioned the point of the experiment. Did it want to show us how maladjusted all representation is? Are we all to blame for life's fallacies? They make you think, kill, fuck, fake, think, kill, cry, fuck, fake, rage. When emotions run high we get to see the kind of homeless they will become. The producers' fuckery is set to get inside our heads by inhabiting media stereotypes. Yo, I think it works. It's a Ring type thing. Once you watch it your cells start to die. But the host is so fabulous and I want to see more pocket daddy legs. Yeah, I'm fucked.
24-May-2022
---
All Of Us Are Dead (2022-)
S1E5. A virus apocalypse has erupted in high school. The younglings are fighting for their lives whilst the adults are saving face by not prioritizing them. It's a metaphor for the insignificance of "future first" if the safety of viable people in the present is not a consideration. The younglings can't blame cultural suppression, sexual confusion or identity as a source of teen angst and school bullying. They are all at the same level. Their souls are their weakness or their strength. The virus is simply explained as a Frankenstein complex. Boys can be whatever they want as long as they learn to survive it. The action is relentless. I was surprised and delighted how imaginative expression can be. The younglings earn our hearts by decoding survival skills and being kids. It's horror art.
02-Feb-2022
---
Legend Of Lizzie Borden, The (1975)
A document of what may have occurred in a family downed by a favorite daughter. The film has a "Carrie" vibe that suits it. It mixes courtroom drama with home hysterics. Elizabeth Montgomery was all witch with only a hint of Samantha. The film was moderate with details and motives. You get the idea but not the full package. Elizabeth kept the film rolling with gestures suggesting things that weren't written and being an unappreciated force. Katherine Helmond was a sister witch with serene class. Fritz Weaver was a super-daddy warlock. I don't understand why his wife looked like a maid. The movie needs a clean-up, the performances don't.
06-Dec-2021
---
The mythology exploded into bits. The Frankenstein and Gremlins intermingle registered anew. Tiffany erupted into a countess of evil. Our favorite orphans showed and blew shit up. In style. Little gay boys kicked ass. The twists and consequences were ridiculously entertaining. Chucky popped a different pill and surprised us. He's become a deeper hallucination. I love how his doll legs flail when he's killing someone. He says all the stupid shit we're thinking. He's hilarious. Lip synch has improved. He's fucking awesome. It was a bang with a but. I was not amused by the Chucky Show at the end.
03-Dec-2021
S1E6. Chucky celebrated Mother's Day by being a cruel adult. Black gay boyfriend is sweet. The babies are creating a vibe. Main baby needs to step up the emotion. I can see him staring at the nothing he sees when the director yells at him otherwise. Tiffany tickled. Chucky delighted and the show didn't give a shit. It dared cancel people we liked. That's scary.
24-Nov-2021
Hello Gladys Kravitz.
20-Oct-2021
Chucky's back and he hasn't aged. Tech needs to fix his lip-synching. It's off. Chucky is owned by an angry teen with artistic deficiencies and obscure classmates. Hateful characters abound so we can watch murder without guilt. The teenager walks around with a giant doll throughout the school day and makes it home safe. WTF? Chucky supplied giggles, guffaws and revenge. Go Chucky!
15-Oct-2021
---