All Posts Tagged as 'Vague'
Welcome to Errattic! We encourage you to customize the type of information you see here by clicking the Preferences link on the top of this page.
Blue Beetle (2023)
The pace had no time to set-up character appreciation, it had a billion particles to settle. The family dynamic was food, drink, celebration and insanity. George Lopez added comedy schtick to his act. He looked like a character booted from Bedrock because he was too loud and ornery. The breast queen should be playing Lady MacBeth not becoming a free TV actor. I can see her washing blood from her hands and implementing Elvira's cleavage cut. The rest of the family and the leads apply stereotypes without explaining them. There is no such thing as a stereotype because it's only a description of our heritage. Universal speak. Nobody passed the classic TV Q test and the silliness hardly stopped. The best of the mythology turned into a fiesta. The family went everywhere together. Really? When did they masturbate? Why did the family get superpowers? Beetle's nemesis was a bigger and badder version of himself. Couldn't we have gotten something a little different? If the production wanted to fill the female quota, why didn't they concoct some awesome female villains? He has lots and no villain is scarier than a latin woman scorned. She'll slash your tires.
27-Nov-2023
---
Killer, The (2023)
"Trust no one." If that thought had been applied to the killer's private life, the film would've been a masterpiece. The panic attacks start as soon as the movie is over.
16-Nov-2023
---
Fall Of House Of Usher, The (2023)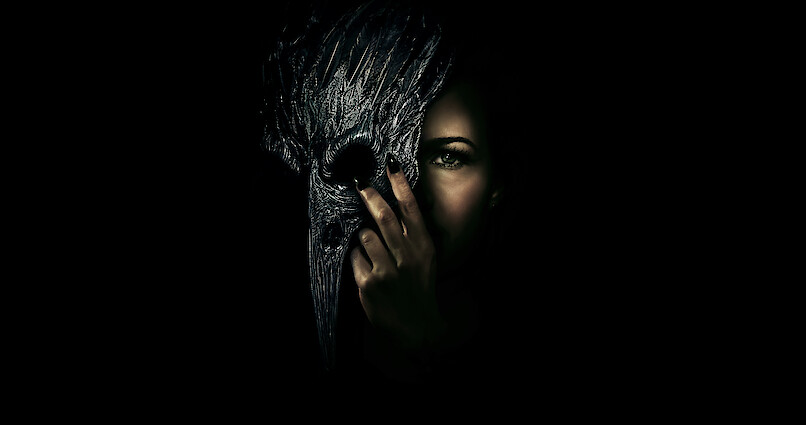 I understood the excuses but I didn't get the obscurity. The finale was a realization of how much of a merry-go-round the production put us through. The Final Destination kills should have ascended from that. When you add magic to horror it teeters on fanto realism. It made my head overload...with questions. Where was Lenore when daddy redecorated her mother's room? She asks to see her mom 5 days later? I believe one of the Dupin's got taller? Bless you, Sir Hamill. Once his character clicks we look forward to seeing him again. The mumbo jumbo accommodated what was easiest for the storytellers. The merry go round speeds up, there are few surprises but the cast and dialogue are superb. What fabulous creature is Gugino's character supposed to be? Is Pinhead her boss? I hope it's the girl one.
21-Oct-2023
SE5. There are so many crisp performances to marvel at. The story captivates but the horror aspect diminishes it. Whenever he gets a vision, we realize how the next victim will die. Stretching the story doesn't mean much if it once ended up in the trash because it contained too much information. The flashbacks are served nilly willy. The saboteur has no meaning but I love her. Poe's themes are observed but not acknowledged. When a creator succumbs to the title of the story he is manipulating things to fit not click.
20-Oct-2023
S1E2. Succession musical score adaptation is too blatant and soon to describe rich family hierarchy. The actors play it well but the characters are as interchangeable as their sexual proclivities. The scares are great ideas that are poorly executed. The mother's beginning is a testament of that. It should be scary but it's not, it didn't grip or create empathy. Flanagan name drops everything but the art he's pilfering. The story does not flatter Gugino and her character is beyond mysterious. I heard Hamill do a Joker laugh and I was amused. Flanagan still hasn't figured out how to shoot in the dark. The admirable parts are the ones created by accident.
19-Oct-2023
---
No One Will Save You (2023)
It would make a better short film. Edit right before the lead repeats what she just did in a different location. The shots were joyously inventive and respectable. It was great apprentice work, but when it lands on fantasy, it makes no sense.
06-Oct-2023
---
Dickless entry in the Evil Dead series. I fell asleep midway through but saw enough of it not to regret it.
16-Jul-2023
---
65 (2023)
Dinosaurs are tired, saving a girl that can take care of herself is trope and the science fiction wasn't specifically satisfactory. How many bullets does that one gun have? Why did the girl use all of the bombs? The dinosaurs are typical with little variation. There isn't much more that film can say or do about/to dinosaurs. We know everything. Most action sequences placed me in another's movie with no respect for originality yet it struck as a future cult film.
09-Jul-2023
---
Gantz:0 (2016)
Some of the realism popped. An Alexa prototype is god to mankind and can gift life and restore earth's biggest dilemma. There are monsters running amok, conquering earth and no human to contain them. The monsters amaze like boss battles but the characters are srtipped of personality. Why are there monsters running loose? How does Alexa resurrect us? Are the monsters left or right? Can a man fuck a girl back to life by winning the game? (Love the hair effect.)
22-Jun-2023
---
Black Mirror (2023-)
S6E1. Joan Is Awful is fun until buffoonery steps in. I refused to change my brain frequency to understand it. S6E2. Diversity appeared out of sorts in a Scottish mystery that was dull, basic and predictable. I couldn't wait for it to end. E3. Beyond the Sea. I didn't have to pretend my mathematical rationality was misfiring. Perfectly constructed and understandable. The actors leant it broadway huff and puff. The watts illuminated emotional longing. Aaron Paul had an opportunity to steal and he took it, succeeding in hosting more than one spirit. Josh Hartnett plugs sweaty emotion into an astronaut whose reason for life has ended. Kate Mara is an other. The era suits Mara and her beautiful chops. S6E4. Mazey Day. Resembling Brittney Spears is not reason enough to grant a stranger mercy. S6E5. Trash that you shuck out the window after inspecting it. Beyond The Sea was the exception to mediocrity. It was great.
18-Jun-2023
---
Ouija: Origin Of Evil (2016)
The family dynamic is strong. Mother is at a loss because husband died and left her with two daughters to raise and lead. Money is tight so she resorts to scamming people psychically as an excuse to raise morality. Eldest daughter's teenage dream keeps getting interrupted. Baby sister misses daddy a lot. Her mother parents her daughters into thinking every tragedy has a fairytale ending, preparing them for nothing. Creepy little one decides to use an ouija board to manifest her dad. Things don't go as planned. Teenage romance is doomed, mother starts believing in anything because she can't deal and baby girl is a spoiled little bitch. Yay. I think it's her hair. I love it. The evil's existence mutes an almost classic horror film by not making sense.
05-Jun-2023
---
I See You (2019)
A family is stalked by a presence whilst dealing with infidelity, trust and motherhood. Halfway through, it dishes out answers. We are ready for an anything can happen scenario and it delivers. There were no whys answered but the clues added up. Helen Hunt established intelligence until she was abruptly cut off. Phrogs are homeless people with better digs. The surprises kept coming because we weren't given a fair study of who the characters were. The prequel. 1. Ignore the phrogs. Expose the emotions that catapulted the insanity. 2. Rewind. 3. Study what the characters knew. 4. Fuck phrogs!
28-Mar-2023
---
Float (2022)
The best thing about the experiment is the music video at post end. Not for the music but the courage the singer had by being the only thing in the water worth watching. Youths have nothing identifiable to say. They're screaming because their friends keep getting mysteriously killed but have time to gleefully reminisce about partying while continuously drinking. There is no finality or viable explanation. The man holding the camera just drops it at the end.
19-Feb-2023
---
Bel Ami (2012)
1800s penniless, talentless fuckboy decides that seducing rich married women's luck might rub off on him. He receives treats like an eager dog but gains no love or respect. Robert Pattinson leads with his vampire face and squishy looks but his insecurities are boundless. He makes female revenge hurtful even when he's a horny asshole. The women can't keep up. Pattinson is achieving in another planet and they are jetting on Hollywood professionalism. Sexy is mute which nullifies the point but Robert's pain alleviates it.
10-Feb-2023
---
Halloween Ends (2022)
I hope so. Besides the original two, no one has added anything fresh, stimulating or artistic. Michael is psychic now. He can tell when someone's been bad to children, like Santa Claus. They gave Laurie white guilt because she is responsible for unleashing all the serial killers in our community. It felt equivalent to hanging Carroll O'Connor for his amazing portrayal of a bigot. Laurie's feminism got softened. She sets up her granddaughter, that almost got killed by the most famous serial killer ever, with a date that served time for maybe killing a child. Yeah, the kid died. Worst parent ever. Why couldn't they meet on their own without Laurie's instincts being seniled? Absolutely not, you are never leaving this house until that psycho is off the streets! That would have been enough fury to unleash a psycho. Corey's idea of a possible serial killer is smiling like he's auditioning for The Dark Knight: The Joker Reborn. An animated feature. I wished the psychos in my life were that funny. Giving Corey a storyline was a stall tactic because they didn't know how to end it. It's been so long that they forgot the purpose. It mistook the original as schlock entertainment and served it as such. What stood out in the original was the images, hand magic, ideas and symbolism. Awesome music is ingrained, a mask and a scream queen born of Janet Leigh never hurt. Everyone deserved better.
02-Feb-2023
---
Drop, The (2022)
I felt like it was written by someone that constantly cancels therapy sessions. Married lady who is attempting to bear child with hubby goes to a lesbian wedding, holds their kid and drops it. They react as you would expect and not. Everything that leads to the wedding is patronizing. Married lady who can't have no children and dropped a kid becomes an unworthy ally, mother and wife. All the characters are cuckoo, babbling about the latest politic that social media hypnotized them with. They're all talking with little connection. Jermaine Fowler had the chops but they didn't let him charbroil them until the end. Utkarsh Ambudkar played a fuck you rendition of an asshole. It was humiliating and brilliant. The ladies stood back as if they were auditioning for high rated TV. What's the point of going on a trip that doesn't matter.
22-Jan-2023
---
Tag A-Long, The (2015)
The child looks like a foreign creep from the same world. It establishes the dread and the style. Grandma, grandson and girlfriend have an established relationship that is misunderstood and unrecognized by all parties until cflimate change happens. For every tree that gets knocked down, a human is tasked to replenish it. I liked the drama and the characters but scares didn't pound with sense.
02-Jan-2023
---