Movies Posts Tagged as 'Fun'
---
Rating key:
Welcome to Errattic! We encourage you to customize the type of information you see here by clicking the Preferences link on the top of this page.
Hole In The Ground, The (2019)
Single mother starts a new life with her son in the boondocks. Woods are spooky with a giant hole in the ground. Baby boy disappears into the woods and returns different. A neighbor's history tells of a mother falling apart at losing her son to the woods, going to prison, killing her son and being constantly haunted. She becomes deranged, unacceptable but tolerated. No one believes her truth because all nutty people are considered liars. But the nutty people are always right. We don't want to look at that shit so we ignore it, the way we don't Santa and Barbie. Mama believes the lady's mythology until she too faces that dilemma. The child is a spooky chill, the mother's face speaks volumes and the director allows us space to breathe. Cliches disrupt the flow. Dreams no longer surprise. The end was a meh and a what. Craft without sense.
29-Nov-2023
---
Not A Stranger (1955)
Stallone was The Robert Mitchum of his era but no one could beat Mitchum in his own. He had a back like Hulk, Rocky eyes and Superman's countenance. Mitchum wanted to become a doctor but couldn't afford it. His father was a drunk that drank his wife's suffering money and wasted their son's future. His medical student enrollment will be terminated if he doesn't pay his fee. Olivia de Havilland is the good nurse captivated by Dr. Hulk and exhibiting fangirl craze and saved up money. He is the distant thing that doesn't find her distracting but she's someone to talk to. He'd rather become a doctor. Olivia is an independent foreigner that mistakes his intentions of marriage as fairytale truth. He just wants to be a doctor. That's why he got drunk on his wedding night. Big man gains a god complex once his superiority is solidified and success follows. He believes that the medical profession needs to follow code, even though he breaks them at home. Olivia wants to start a family but the giant wants to fuck things he likes. Actor watt was at 100%. Olivia wrecked her accent and our hearts. Frank Sinatra was a hardy friend that tried to tame the hulk's rage. Anytime a surgical procedure went wrong bigback clobbered the shit out of the culprit, even if they were his boss. Doctor withstands life with a wife he's not absorbing and becomes a maniac doctor. Sympathy, miracles and delusions. How do you cure a god complex? Have him fail. Gloria Grahame was a Poison Ivy sketch ready to buckle a giant. Her lip liner was everything. Passionate mischief enacted with horses. Cute.
27-Nov-2023
---
Scream VI (2023)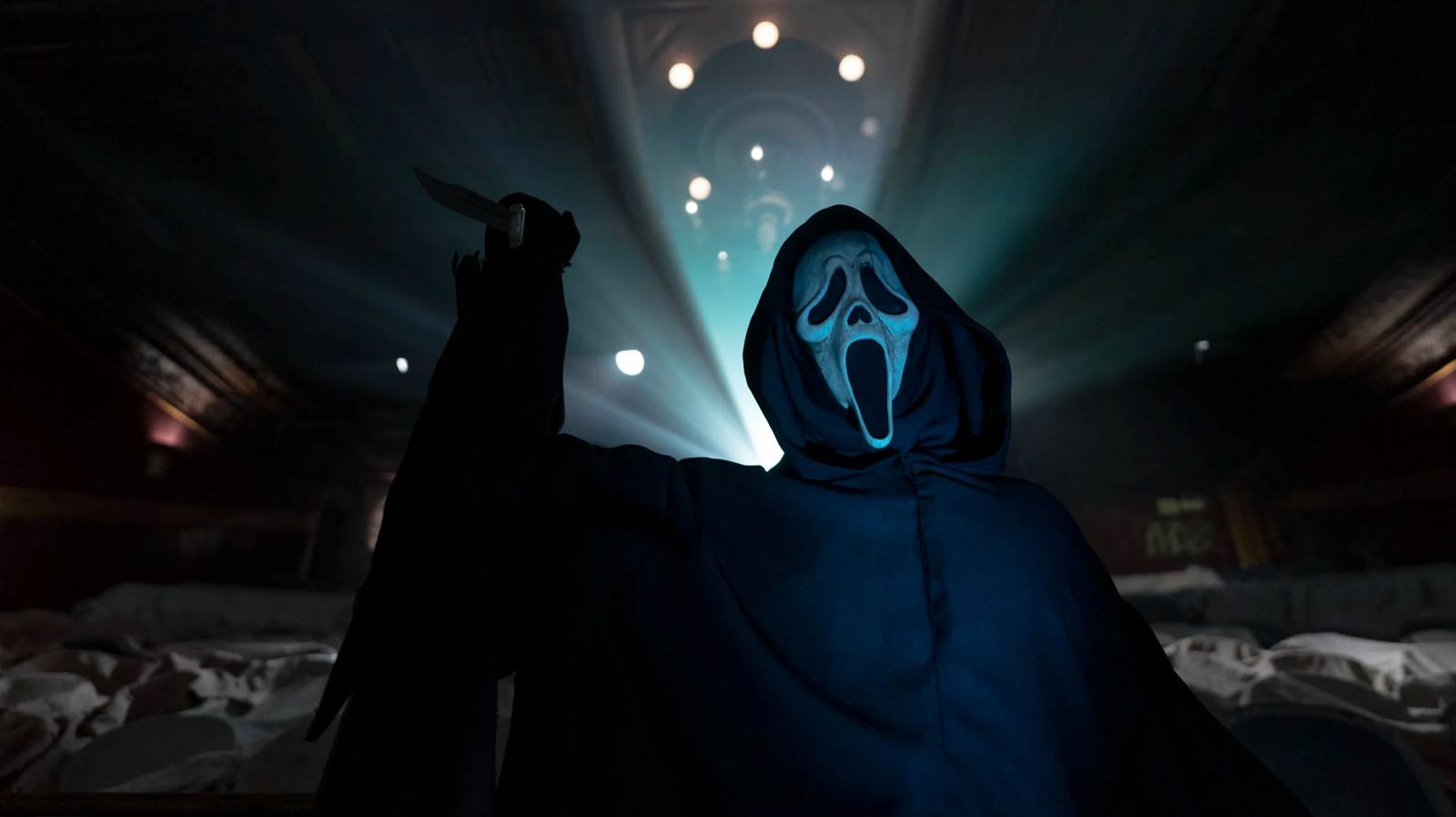 Exactly what I didn't expect, in a place I wouldn't think of.
16-Nov-2023
---
Snyder's Justice League (2021)
A masterpiece in shambles, in need of a master foe.
17-Sep-2023
---
Woman Possessed (1958)
A mother who has dedicated her whole life to making sure her son could take care of himself are reunited after two years of studying and accomplishing. He's a doctor, now and engaged to be married. His fiancee is with him and she's staying over. Love with sex will repel motherly adoration until time makes him realize mother was right and he returns to his mother's heart. and he's brought her along to get married. The introductions are awkward, full of rich people manners that can't mask hate. The conversations are human. Mother expounds an opinion that changes their lives forever. The couple bicker about how much control the mother has over her son and the backhanded humiliation future wife receives. Sometimes he was right, other times she was and half the time, both were. The mother blames the fiancee's weakness as to why she needs to suffer in her world. She was horrible when no one was around and she never let them see her sweat in a dress. The jury flip flops as did I. Uncle was cute, old maid was tired, of course, she had a mansion to clean, dress and cook for and young maid's exit was fucked up. The birthday party was a topper. The irony explains itself, the ladies were in good form and was that a lesbian ending?
22-Jul-2023
---
Somebody Up There Likes Me (1956)
Rocky was a criminal with a violent streak that learned to harness his rage and become a boxing champion. A boxer fights until he is bested and the beast subsides. The story is decisive and instructive. Newman found the soul the tribute demanded. The supporting cast shook like broadway during an earthquake. The show must go on. The fighting was desperate and raw. The soul was accurately apparent and the film strived for perfection.
17-Jul-2023
---
Cocaine Bear (2023)
Bloody-minded hilarity.
15-Jun-2023
---
Avatar: The Way Of Water (2022)
A piece of art can be flawed, silly and gargantuan. My favorite moment happened when Master Cameron upgraded his past achievements, served them with pride and reminded us what we were missing. A gloriously perfect Spiderman movie? A master of science.
14-Jun-2023
---
Ouija: Origin Of Evil (2016)
The family dynamic is strong. Mother is at a loss because husband died and left her with two daughters to raise and lead. Money is tight so she resorts to scamming people psychically as an excuse to raise morality. Eldest daughter's teenage dream keeps getting interrupted. Baby sister misses daddy a lot. Her mother parents her daughters into thinking every tragedy has a fairytale ending, preparing them for nothing. Creepy little one decides to use an ouija board to manifest her dad. Things don't go as planned. Teenage romance is doomed, mother starts believing in anything because she can't deal and baby girl is a spoiled little bitch. Yay. I think it's her hair. I love it. The evil's existence mutes an almost classic horror film by not making sense.
05-Jun-2023
---
Hunchback OF Notre Dame, The (1996)
Laid out like an adult novel that kids can understand. There is no better marriage than broadway and Disney. The score may not be everlasting but it's made up of raw talent and emotion. The songs and singers soared. The animation splashed with celebratory colors while hellish fire represented its demise. Quasi is a molded adult broken by a murdered mother and a crippled body. He is adopted by the man who wronged him, controlled him and gaslit into hiding the monster inside of himself. The subjects are very adult. The adoptive father rules the town with sexual and racist motivation. Gypsies are taking over. The crime rate is through the roof and they are to blame. A Festival of Fools sets up the threads that make all the characters intersect for a grande finale. The monster convinces himself he can attend. A military captain has just been initiated. Esmeralda seduces all the men with her gypsy dance and her unapologetic heart. Evil master Frollo becomes obsessed with dominating her. The good men compete with each other to protect her. Everything is big, everything is right but it begged for a slow down. I know, the kiddies would've exploded in their seats but the adults might have watched it again. It's not the best but it's unique.
04-Jun-2023
---
Airport (1970)
It technically educated the watcher on how airports manage and simply pointed out the obstacles they confront on a daily basis. All-star cast do what they do best and delivered. Helen Hayes brought star wit, watt, robbery and reigned beyond the material. She was it's light, its dark and its favor. Maureen Stapleton's guilt was gut wrenching. Van Heflin was believable as a twitchy loser trying to cash into morality. Story is favored over action which makes us care for them more as the inevitable happens. Dean Martin gives a heartfelt performance, Lancaster was in charge. Bissett epitomized the soul of a woman that finally grew up. The big bad were not terrorists or hijackers it was one person with a gripe that life was unfair to. Split screens worked well, the cast was gung-ho, the soap tasted like strawberries and the saves felt like hope.
30-May-2023
---
M3GN (2022)
When pristine horror gets blood splattered, it resonates. AI has become a substitute for jobs that were once revered by the original occupant. Humans. Live shows, movies, tv, music, computers, phones, news, robots, etc. Each performance shaping the community they want to live in. M3GN has many faults but protecting a child was a built-in priority. A grieving child with no parents, structure or stability will succumb to the charms of a robot if you make her look and act like a best friend. Aunty creates M3GN and other incredibly expensive robotic toys that probably belong in a mansion. Her new invention is going to cure parenting and loneliness... moving the child farther away from a heart beat. M3GAN is a beautiful creation, maneuvered rightly, timed perfectly and a show stopper. The more M3GN claimed the child the more motherly aunty became. Flaws can be overlooked when the value of entertainment is so high. Perfectly cast and remembered. Fun as fuck! I wished she had killed more. As long as creator and monster are liable, human parenting will diminish. I am one of those children. My real mother's name was television. I'm sure somebody's heard of her.
22-May-2023
---
I Spit On Your Grave (1978)
It would be exploitation if the rape weren't the catalyst to the main's empowerment. Woman alone stays in the country where blue collar men with too much work, time, ugly women and no manners abound. City girl is a writer who handles well, is lonely, trusting and helpless. Among the victimizers is a challenged man that is susceptible to gang mentality and betrayal. The rape had elements of realism and buffoonery. The men are cartoonish during it, pulling faces and acting like they've never fucked anything before. Maybe, it was to soften audience blow. Our lady was courageous on and off camera. The comeback is not as powerful because the violence was of the Kool-Aid variety. They cut the penis dismemerment scene! Boo. 4K adds the clarity that time fixed. Scenes sparkle with beauty and the protagonist is a Charlie's Angel vigilante.
16-May-2023
---
Big Daddy (1999)
Asinine logistics applied to fatherdom for laughs and guffaws. Its savior is not logic but cuteness. You can cuddle with any of these people except the Russian character.
05-Apr-2023
---
Omen, The (1976)
An opulent chiller with legends, iconics, a badass score, glorious shots, intriguing plot, animal attacks, nannies in charge and that kid's wondrous face. It fit all the musts neatly. When Gregory Peck wishes his son were dead, he meant it. Lee Remick made the arduous task of rearing a strange child heartbreakingly empathetic. Evil emanates from every corner.
25-Mar-2023
---