TV Posts Tagged as '2020s'
---
Rating key:
Welcome to Errattic! We encourage you to customize the type of information you see here by clicking the Preferences link on the top of this page.
AHS: NYC (2022)
It stayed true to tradition and didn't end with a bang because they yucked it up with mumbo jumbo. Ryan and Co. are gone, lets' show them what we can do. Everything except reigning it in. Add a little magic over here, irony over there and a preach or two around the corner. Charlie Carver's observations as a writer allowed him to present real gay dilemmas. That's a great contribution. The ladies brought depth, strength and full watt. The Brian De Palma glow, was class. Art shouldn't have to explain itself, though. It just is.
04-Dec-2022
Ryan & Co. serve enough gay meat to feed a Texas Chainsaw Massacre. The stories intertwine nicely. Gay is not what it's cracked up to be. We live life waiting for our perversions to be rewarded. It never happens. I have to disagree with the politically correct's hate towards cops. In my day there were good cops and bad cops, like Jedis. A lot of the time, the good cop was gay. I am thankful for that. You almost want to look away every time that smart begins a story because a shitty end awaits it. Russell Tovey peaks our interest with egg-shaped ears, ass encapsulation and making it overwhelmingly and illegitimately hard to listen to a foreign accent without cumming. Zachary Quinto is wolfy and orgasmic. Charlie Carver epitomizes an innocent victim. Joe Mantello is the kind of daddy you want to breathe a moment of life into. Isaac Cole Powell is a body you can only dream about. I know they are going to fuck it up but I'm going to relax and enjoy the ride.
25-Oct-2022
---
White Lotus, The (2021)
My favorite Wednesday Addams, of all time, is Aubrey Plaza. She became a bitch when her mother, Morticia, started boiling everything and aunt Lester lost her hair. Theo James is a fuck kill. Coolidge is being treated like a goddess by the gays and I hope she lets them have it. Hale Lu Richardson is Florence Pugh's Eve. Will Sharpe has to explain himself or show more thigh. Fahey is a rain of artificial sunlight. Michael Imperioli and F. Murray Abraham play a perfect father and son team that identify but don't accept that one begat the other. They fear their beautiful youngling will inherit their sad fate. The bigger you lie, the better the marriage but by then, the soul is gone. Female sexual harassment in the workplace, men expressing the difficulty in containing themselves, the sexes exploiting that, intelligent words coming out of fine actors and a director that provides the vision he describes.
30-Nov-2022
Mike White delivers an itchy script full of descriptive characters and awkward situations. The luscious atmosphere is reduced by human mania and overcompensation. Jennifer Coolidge cracked my funny bone, tore my heart and was masterclass as a woman acquiring power by being weak. Murray Bartlett played an outrageous gay asshole with ridiculous tendencies. Jake Lacy was pure alpha as a newlywed lord ruling over his petty wife. Molly Shannon whipped up a venomous mother-in-law from hell. Steven Zahn and John Gries gripped man sensibilities. Connie Britton and Alexandra Daddario convinced me. Natasha Rothwell spilled her heart and Jolene Purdy split my stitches. The teens were beautifully vacant, troubled, witty and intoxicating, just like vacations.
19-Aug-2021
---
S1E2. It identifies with the world of art without the soul of the artist. Tim Burton's strongpoints are macabre and whimsy. His art is diffused to welcome misguided talent and a questionable existence. Jenna Ortega had already perturbed me as a porn star, the feelings don't tingle for Wednesday at Hogwarts either. She thinks her character is a surly sour bitch when that is what all teens are. If Wednesday, is indeed, a creepmeister she would be hunting the enemy that tried to kill her, to fuck it, enslave it and torture him forever, not Buffy/Cordelia them to death. It's missing a lack of heart.
28-Nov-2022
---
Inside Man (2022)
How a good person can be lead to kill. Stanley Tucci is elegant and perceptive as a death row inmate who helps investigate and solve crime. Atkins Estimond supplies "Watson" cuddliness. David Tennant spirals like a rabid dog. The wife is a frantic lunatic and the tutor is the "Karen" that's asking for it. It flourished in the beginning when we were blinded by its freshness but once we analyze the idiocy of it all, it doesn't make much sense. The deductions are grabbed from thin air, some of the reactions are not reasonable and by the end I was irked. Why didn't they just burn the stupid thing? Why did the pervert have to be mentally challenged? All of my perverts had normal capabilities and didn't freak people out. Why are perverts granted mercy but "Karens" are unforgivable? Who gives their perverted porn to a vicar? Your mama don't want it in the house, smash it to smithereens. Yes, anyone can become a killer but many others don't. They are called good dead people.
05-Nov-2022
---
God Forbid (2022)
It makes fun of itself before we get a chance to. Mockumentary is its misplaced inspiration. When pool boy recounts his sexual encounters with mommy and daddy pastor he edges close enough to wink and fuck the camera. He was dying to show us his dick. Privileged beauty is bought for an unsatisfied housewife and a latent homosexual. When beauty tries to break his contract, god's disciples rebel which god's beauty avenges. The Trump years were exhausting and felt like a foreboding comeback. Pool boy's sister had way too many things to say about her brother's prowess. Tom Arnold makes a cameo. Religion is a business.
02-Nov-2022
---
Below Deck: Mediterranean (2016-) 
When will men learn that women don't want to have kids with bald heads and hairy backs? It's off-putting, especially if they turn out to be girls. The only way to prove a gay steward a liar is to film it. Shouldn't the pronunciation of Mzi be Mitzy instead of Zee? The captain only popped out at opportune moments. Example: "the gay guy is going to call that nosey girl a bitch. Listen, wait, then pop out." I want to see the chef's eyes turn black when he's banging a chick. He has "You" type relationships with the boat, crew and that chief stew casserole.
17-Oct-2022
Deck Jason was belittled for confusing" being himself" with "honesty."
21-Sep-2022
The crew dressed like Guy Fieri and I didn't get it. Why the big boobs? A strange dick in a gay's mouth fixes his teeth but makes his job performance wonky. If a gay boy unzips in a woman's face it's not sexual harassment. If a strait man compliments a gay boy's ass it's an honor. Ex-new boyfriend of chief stew is worried that ex-new girlfriend is thinking of the chef's dick every time she sees him. He needs to helicopter in and remind her what a tasty dick looks like. The captain keeps seeing the same dirty spot after a few sips and not. Natalya snitched on her boss (not-twin) and stew Whoopsy. The captain called them pigs and Whoopsy exclaimed that Natalya had opened the fish market. What the hell is that? Is that a new gender?
12-Sep-2022
Lesbians in charge still can't incorporate a hot male crew member. Trust me, the sex jokes would be less offensive. Captain Sandy does not hit things when she has a few sips. A gay steward gets a tooth infection when there is no constant dick in his mouth. I can't tell those brunette stewards apart. If I were Captain Sandy I'd make one of them cut their hair.
15-Aug-2022
---
Watcher, The (2022)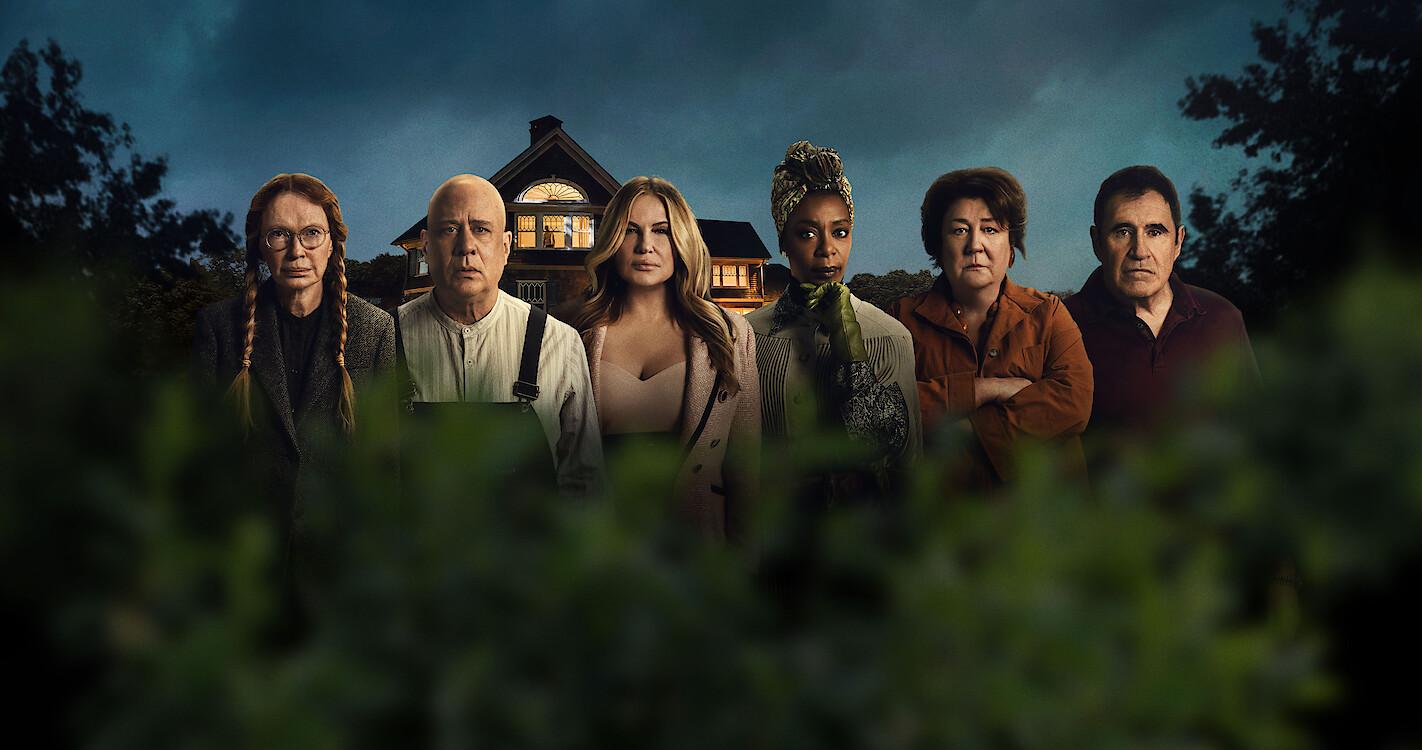 Moving to a new neighborhood is like finding extended family. Neighbors expect things of you. You fake your way out, you eventually fall into their trap and they change you. Jennifer Coolidge is in it. She was mighty confident pulling out question marks. She's all you'd expect and more. Margo Martindale is sublime as a sparring neighbor that's always lawfully right. The asshole who I think claimed all men want to sleep with their daughters was intriguing. Mia Farrow was wasted as a tree communicator/hugger/companion. A neighbor that excludes humans from the safety of the environment is a nag. Every time Papa Cannavale raged, my loins pleasantly shifted but when he didn't stop, I got ED. The Wakandan investigator seemed too fabulous to be in this realm. Real-life haunted house stories are bullshit. A bunch of brilliant people coming up with an idea of creating history by actually destroying people's lives and documenting it. All I wanted was to see Martindale and Coolidge go at it. Coolidge as a porn star neighbor with loud parties and sex orgies (ooh ooh, she can invite Stifler), colorful guests and Martindale doing what she does best with lesbian tendencies. Ryan puts our head in a tumbler and expects us to figure it out. On what basis?
14-Oct-2022
---
Werewolf By Night (2022)
A monster mash that returns to its cinema roots to re-establish itself in the present. Story over matter, acting instead of over-compensation and violence with a due purpose. Harriet Sansom Harris has a voice you shyly obey, Laura Donnelly's spirit has cool tendencies and Buffy skills, I prefer Mr. Bernal in shorts and no makeup but I'll take him however he is served. Please, remember the shorts, though.
12-Oct-2022
---
Sins Of Our Mother (2022)
The most devious mother is the one that makes everybody think she's a great parent by constantly tooting her own horn, garnering prizes and adulation from an unsuspecting public and using her children's pain as confirmation that she is great. The woman in question is more of a monster than a sinner. Grandma blames a religious cult and a surviving child is a bundle of confusion. The good mom monster guise never lets up, even when the bloody bones are in her face. Everyone covers for everyone else, monster learned to lie from mother grandma and the murdering qualities from having children. We will never know how it happened because mother won't allow it. It might tarnish her image.
30-Sep-2022
---
DAHMER: MONSTER (2022)
Cinematic art ceases during wind down when Ryan's team inserts modern politics into the victims' families' mouths. Little sympathy is garnered due to the hypocrisy that they expect the police to protect them but be hands off if they themselves commit a crime. You can't have it both ways. The sandwich inspired its most chilling scene. The addition of another gay monster killer paralleling the present one is terrifyingly well done. Evan Peters never lets go of his disguise, Richard Jenkins slaughtered, unrecognizable Molly Ringwald had moments, the actor who played Jesse Jackson was eerie good and Niecy Nash's character stayed too long but she remained great. In the end, everyone exploited a man who felt alive in killing because he was invisible through life. It's a disservice to the victims if we don't learn to protect ourselves from it instead of denying it. Dahmer had the last laugh. He is ever more present and his surroundings are all but invisible.
27-Sep-2022
S1E4. Evan Peters takes us inside a gay serial killer's monster bubble and he gives the impression that his art will be popping iteration balloons for years to come. Niecy Nash is that bossy bitch neighbor that's always in people's business that no one wants to hear but gets politically redeemed by being the right amount of bossy. Nash holds the note a second too long but her character sings. Richard Jenkins used craft in telling the story of a parent that feels pain for raising a monster. Michael Learned reminded me of mama Walton but later, vanquished it. She embodies the bitter old woman that supports you to be whomever you want as long as its made up at church. Did she inspire his racist thoughts? The show obsesses over bloody squishy things instead of sexy, kinky things. I hope it switches. Man's true nature is exposed during sex. At that time, the community agreed that he was scary as fuck because we would have fucked him...and died. Only a victim can describe a monster and only a monster can describe his family. The series proclaims that mothers should not have children if they are mentally suffering, a weird child best ignored is not a happy child, a grown father dissecting animals with his gay kid encourages human devastation, daddy keeps encouraging human devastation because he can't beat his wife and cops get punished for being sensitive to gays. Evan's thought process is to lay blame on the parents and make himself accountable for the joy that chaos brought him and because only fucked up parents can create such a fucked up kid.
23-Sep-2022
---
She-Hulk (2022-)
I experienced it, like I did in childhood, watching Saturday Morning Cartoons for comfort, avoiding abuse and with eyes wide open. It's cheeky and fun with nothing in particular to say. For instance, wouldn't She-Hulk's vagina muscles crush a normal guy's dick or is it rubbery? Moments of pondering lost. Everything court is not "The Good Wife." Why does Wong only make contact with Jennifer when she's She-Hulk but green screened when the actress is present? I got a "The Good Wife" shiver. A great babysitter.
15-Sep-2022
---
Sandman, The (2022-)
9-10. The showdown was anti-climactic because the Sandman's only defense is throwing sand in people's faces.
18-Aug-2022
S1E8. Raising Dion marks a return with a silly superhero suit, man nips and an unengaging sister. Lucienne hits dictation hard because she does not believe a word she says. Dream is making me laugh with how serious he is but the show is not. Corinthian grows wearisome and the raven and pumpkin feel out of place. Gault flickered economically. Good for her!
17-Aug-2022
Episodes 1-4 were a gliding introduction on skates but 5-7 cracked the ice. There is nothing in Patton Oswalt's voice that I would confuse for a mythological bird. The actors are best prior to the sixth episode with 5 being unbearable, 6 boring and 7 incapable of easing the many sexes and cultures gracefully. When the beautifully pale Morpheus with the tiniest lips and waist returns from episode hiatus, the interest is renewed. All else is Dr. Who/DC Christmas Special.
16-Aug-2022
---
I Just Killed My Dad (2022)
You bet he did. How useless adults ruin kids' lives with modern parenting techniques.
17-Aug-2022
---
I never will. Mindy Kalling of much success and little discernable talent.
15-Aug-2022
---
It made a cool exit.
18-Jul-2022
The rest of the season doesn't have to do much but charm.
23-Jun-2022
It feels fresh but safe. It doesn't want to infect it's magical world with too much reality. Accents fail aplenty but its energy is appreciated. A worthy adversary would abolish any doubts.
18-Jun-2022
---