TV Posts Tagged as '2020s'
---
Rating key:
Welcome to Errattic! We encourage you to customize the type of information you see here by clicking the Preferences link on the top of this page.
Below Deck Reunion (2020)
Andy squished, Kate demurred, Simone pondered, Lee combatted, Courtney intellectualized, Riley teetered, Abby could care less and the rest of the Avengers allowed the incredible Hulk to talk for them. (Captain walking out to get legal counsel was cowboy.)
18-Feb-2020
---
After Life (2019-)
Gervais profiles the catabolic generation and spins their sadness into comical whimsy. He is perfect denouncing life and burning it. It's a reality few can see. It talks maturely about aging, death, suicide, loneliness and contempt for the life that bore it. (Ricky's witticisms are wicked clatter.)
17-Feb-2020
---
Horse Girl (2020)
The title sets it up for failure. Mare straddles insanity via conspiracy theory, almost every character is hypocritical and alienating and the balance of insanity versus sanity is insane. (Hint: the horse wins!)
15-Feb-2020
---
Locke & Key (2020-)
I don't question the magic of the keys, only where you stick them to achieve such magic.
10-Feb-2020
---
Academy Awards (2020)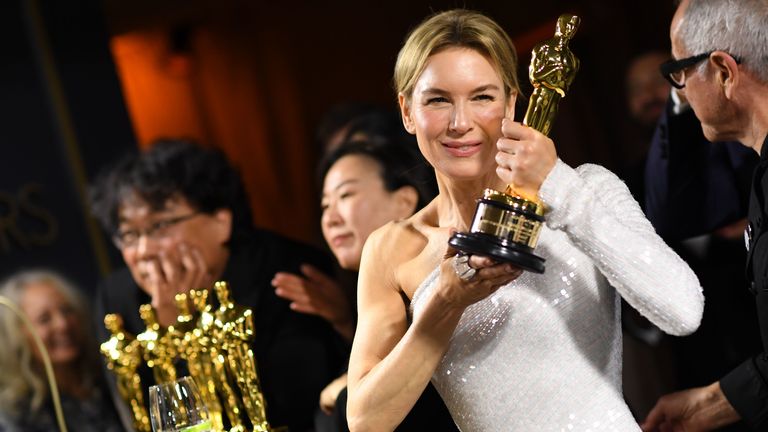 The Academy figured out that diversity comes in more than one color.
The "Parasite"s snared it.
Eminem was an unnecessary surprise, stirring thoughts of homophobia, sexism and racial encroachment whilst being lauded and absolved.
I'd be "right" if Olivia Colman hosted the Oscars. She's toolshed hilarious (handy but sharp.) The show feels lonely without a parent to supervise it.
The musical numbers were welcome, the star pairings were amusing and the show knew when to wrap it up.
10-Feb-2020
---
Stranger, The (2020)
The wows were cross-stitched to perfection.
05-Feb-2020
I'm only two episodes in but I think it's about a future where snitching trends...like, "save the world" kind of..."trendy." I'm intrigued.
02-Feb-2020
---
October Faction (2020-)
"The Americans" in the Buffyverse with its own ideas.
Twins united is a powerful concoction. He's gay with no tolerance for sweetness and of suppressed privilege. She questions why her life doesn't fulfill her essence. They both do everything to upset their parents. Their awakening untangles excitedly.
Family history keeps the mythology pressing on.
Daddy has a gun, grandma has a gun, they all have a gun but no one grips it like mama.
The show handles its business like a bullet - straight through - no bullshit - not for squeaky screamers.
"Big Bad" seems to be representing.
There are a variety of monsters, entanglements and enlightenments for an open world of writing fun stuff.
29-Jan-2020
---
Witcher, The (2019-)
Daddy is something else but it was the ladies that kept me glued.
18-Jan-2020
Of course, I'm disquieted by the froggish whisper of the Witcher but he delivers comitted action moves and steady alpha charisma. Interspersed characterization maintains the show's freshness. (Is it part of its mythology that all pretty twinks get killed?)
15-Jan-2020
---