Gay+
---
Welcome to Errattic! We encourage you to customize the type of information you see here by clicking the Preferences link on the top of this page.
A White Couple Was Caught on Video Pointing Guns at Black Lives Matter Protesters in St. Louis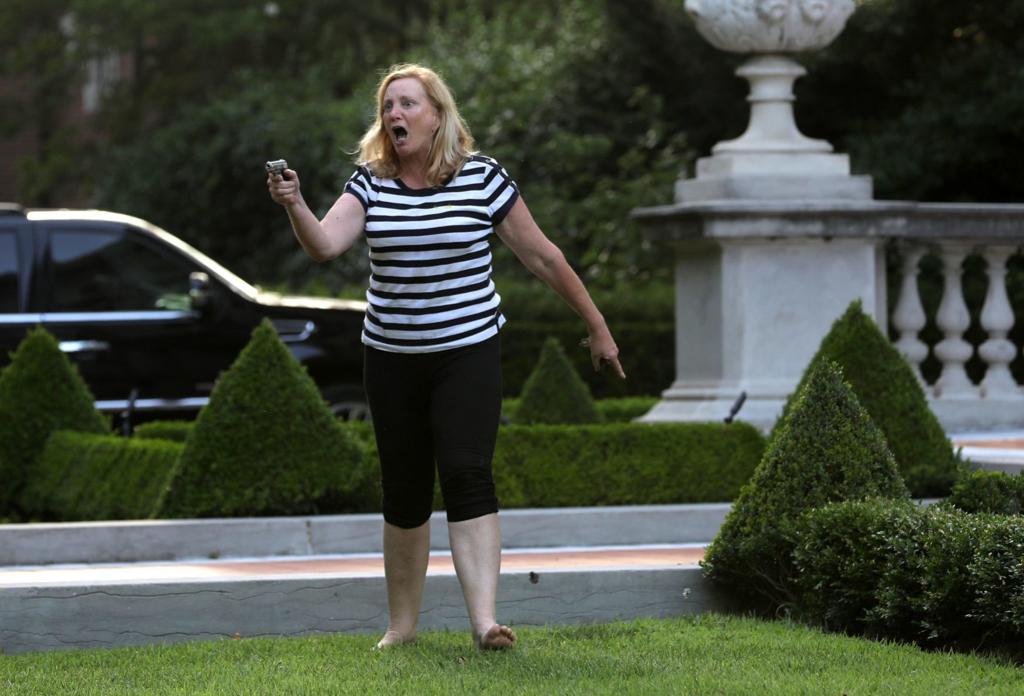 An armed white couple waved their guns and yelled at Black Lives Matter demonstrators in St. Louis on Sunday, during a protest march to St. Louis Mayor Lyda Krewson's home.

At least 500 people peacefully marched through St. Louis' Central West End neighborhood on Sunday demanding Krewson's resignation, according to the St. Louis Post-Dispatch. Krewson appeared in a Facebook Live video last week reading the names and addresses of people who had called for defunding the city's police department.
Man Fired for Racist Rant Supporting Slavery and Lynchings of Black People
John Wayne's son responds to resolution calling for John Wayne Airport to be renamed
Michigan Woman Yells Racial Slurs at New Neighbors in Viral Video
San Jose man charged with hate crime in Santa Cruz assault incident
Adam Carolla defends Jimmy Kimmel over blackface backlash: 'We've lost our minds'
Little Caesars fired two employees after a couple found a swastika made of pepperoni on their pizza
---
'Golden Girls' blackface episode removed from Hulu 
Not even "The Golden Girls" are immune to blackface backlash.

"Mixed Blessings," a 1988 episode of the beloved comedy series, has been yanked off the content-streaming platform Hulu for its depiction of two white characters sporting darkened faces, according to The Hollywood Reporter.

The episode features Michael (Scott Jacoby), the son of Bea Arthur's Dorothy character, planning to wed African-American fiancée Lorraine (Rosalind Cash), who's twice his age.

While Dorothy is anxious over the extreme age difference, Lorraine's family disapproves of her marrying a white man. The two families then scheme to sabotage the couple's engagement.
Cosmetic giants removing the word 'whitening' from products, realtor association stops using the word 'master bedroom'
A Blackface Moment From "The Office" Has Officially Been Edited Out Of The Series
---
Bus company criticised for "offensive" decision to rebrand Pride bus to an NHS one
A bus company has come under fire for attempting to rebrand their Pride bus.
Plymouth Citybus took to Twitter over the weekend to share pictures of their new rainbow bus, which has been rebranded from one showing support for LGBTQ+ Pride to one showing support for the NHS.

"Rainbows have become synonymous with hope and the NHS during the current pandemic," they wrote, "so we thought what better way to show our thanks to our amazing NHS and key workers, than to re-brand our Pride bus to our rainbow NHS bus?"

The decision to rebrand the Pride bus has caused a divide, with many highlighting that the rainbow flag has been associated with Pride for decades, and others pointing out the often fickle nature of companies showing support for the LGBTQ+ community.
---
Hannah Brown says the N-word, apologizes after backlash
Hannah Brown has been cast as America's sweetheart -- albeit in reality TV style -- but the Alabama native's image was tarnished this weekend after she filmed herself saying the N-word.
---
Jeff Goldblum Faces Social Media Backlash Over Islam Comments on 'RuPaul's Drag Race'
Jeff Goldblum came under fire on social media for asking if Islam was "anti-homosexuality" and "anti-woman" during Friday night's episode of RuPaul's Drag Race.
---
One Million Moms prove they are comprised of exactly zero mothers as they spend pandemic raging over gay cartoon ducks
One Million Moms have decided that the middle of a global pandemic is the right time to try and launch a boycott of Disney because of two minor gay characters in a DuckTales cartoon.

With schools shut down due to the pandemic, the online streaming service Disney Plus has become an invaluable tool for parents everywhere trying to keep their kids occupied.

But it's apparently not so vital for One Million Moms, a front for the anti-LGBT+ fundamentalist lobbying group American Family Association, which despite its name has just 4,787 mostly-male Twitter followers.
---
Georgia suspends Ku Klux Klan mask law during coronavirus pandemic 
The coronavirus has forced Georgia to revisit a 70-year-old law targeting the Ku Klux Klan.

Gov. Brian Kemp signed an executive order temporarily suspending 1951 legislation creating a misdemeanor offense for people who conceal their identities while on public property — a law passed to combat klansmen.

Kemp said the order allows Georgians to were protective facemasks during the coronavirus pandemic without having to worry about a run-in with the law.

"I signed an order to allow Georgians to wear masks in public to mitigate the spread of COVID-19 – in accordance with CDC guidance – without fear of prosecution," Kemp tweeted.
News outlet suggests Georgia Gov. repealing mask ban will lead to KKK activity
This is not a priority because police can ignore this order during an emergency. What happens after? Who suffers after?
15-Apr-2020
---
Surgeon General criticized for calling on African Americans to take care of "big momma" and "pop pop" 
Surgeon General Jerome Adams has come under fire for using what has been described as offensive and pandering language while offering coronavirus advice to African Americans.

Adams during a Friday news briefing warned black Americans to stop drinking, smoking or doing drugs for their "big momma" and "pop-pop" as the community has suffered a disproportionately high number of virus-related deaths.

"We need you to do this if not for yourself than for your abuela. Do it for your granddaddy, do it for your big momma, do it for your pop-pop," the nation's top doctor said, urging the African Americans to "step up."

Adams was criticized both for his word choice but also for advice suggesting that African Americans' own behavior was to blame for COVID-19's impact.

"He said that Black and brown people need to "step up" and avoid alcohol and drugs during #COVID19," tweeted writer Fredrick Joseph. "Further perpetuating false narratives about our communities. America will always try to blame people of color."
I wish people could be as scrupulous with each other as they are with the word.
13-Apr-2020
---
Charity compares homosexuality to drug addiction to justify rejecting LGBTQ coronavirus volunteers 
An organization has been refusing to allow LGBTQ people – including medical professionals – to volunteer at its New York City tent hospital set up to help people afflicted with coronavirus.

The group's president is defending the policy by comparing homosexuality to alcoholism, drug addiction, and people who volunteer just "to pick up girls."

"God instituted monogamous marriage between male and female as the foundation of the family and the basic structure of human society," the statement says. "For this reason, we believe that marriage is exclusively the union of one genetic male and one genetic female."

At least one person who tried to volunteer without signing the Statement of Faith was turned away, with a staffer at the organization saying it "is a Christian organization."
Homophobic tensions halt plans for a second Franklin Graham coronavirus hospital in a cathedral
Church members get $500 tickets for sitting in their vehicles with windows closed during radio service in church parking lot
UK cop tells man he can't sit in his own front garden due to COVID-19 lockdown: 'I'm asking you to go indoors; are you refusing to go indoors?'
---
Career thief released from jail over coronavirus fears breaks into shuttered subway newsstand: sources
A career subway thief who was released from jail over coronavirus concerns is back in cuffs, accused of breaking into a shuttered subway newsstand a few days later.

Darryl Naser, 25, got out of jail on Rikers Island on March 27 after he was ordered held on $25,000 bail for skipping a court date in a grand larceny case.

On April 1, police allege Naser and a buddy broke into a closed newsstand in the 34th St.-Herald Square subway station. He was arrested on a subway on Canal St. Monday night, police said.

Naser, who's racked up two felony convictions and nine misdemeanor convictions, typically targets subway riders for theft, police sources said.
R. Kelly requests bail because of Covid-19, but a federal judge turns him down
Cops bust Texas teen who boasted about spreading coronavirus
Actress who fronted coronavirus PSAs busted for throwing wild house party
Coronavirus: Former police officer handcuffed in front of six-year-old daughter due to social distancing measures
White Supremacist Groups are Recruiting With Help From Coronavirus – and a Popular Messaging App
---
Elderly woman dies after being smacked for not social distancing: sources 
An 86-year-old woman awaiting treatment for bowel blockage at a Brooklyn hospital yesterday died after being punched by a fellow patient — for not engaging in "social distancing" amid the coronavirus, law-enforcement sources told The Post on Sunday.

The death of Janie Marshall of Williamsburg appeared to be the first potential crime in the city sparked by fears over the deadly contagion.

Marshall was in the Emergency Room at the city-run Woodhull Medical Center when she was smacked in the face by a 32-year-old patient, who was awaiting psychiatric treatment and got out of her nearby bed to launch the unprovoked attack, sources said.

Marshall was knocked off her feet and cracked her head on the floor shortly after 2 p.m. Saturday, sources said.
Manslaughter arrest for woman accused of fatally striking NYC hospital patient for violating coronavirus social distancing
---
Rashida Tlaib endorses explicit insult against the National Day of Prayer
Rep. Rashida Tlaib (D-Mich.) decided to endorse an explicit insult against the National Day of Prayer through a retweet on her official social media account.

Tlaib endorsed the divisive message posted by vocal gun control activist David Hogg on Twitter by pushing it to her nearly one million followers.

"Don't let this administration address COVID-19 like our national gun violence epidemic," tweeted Hogg. "Fuck a National day of Prayer, we need immediate comprehensive action."
---
Virginian County Supervisor claims rainbow sticker signifies the "collapse of humanity"
Virginian County Supervisor Stacy Terry is under fire after he posted a homophobic rant onto Facebook after he saw a rainbow sticker on a classroom door at the Rural Retreat High School.

The sticker, for a Gender-Sexuality Alliance, when translated into English simply reads: "Safe Space." However, this was enough to irritate Terry who claimed that Christian groups weren't allowed to meet on the school campus, although this was contradicted by school officials.

In a post, where he claimed not to be homophobic but against "indoctrination" he wrote: "The photo on the right is of a classroom in one of our county high schools. It is a gay pride flag.

"Translated to English it says safe space. I want to know where the classroom is with a picture of a cross and Bible that says safe space?

"I am sick and tired of hearing folks hide behind tolerance and equality!
---
Calls for Wendy Williams to be cancelled are renewed after catfish victim is mocked on air
Ben Shimkus was the first person to reveal that he had been catfished by Sherry Pie, also known as Joey Gugliemelli, a contestant on the current season of RuPaul's Drag Race. "I have a weird story to tell about Sherry Pie," Shimkus opened a Facebook post with two weeks ago.

If that's not difficult enough, Shimkus has now become the punchline of jokes for tabloid shows and comedians. Yesterday, Shimkus took to writing about his experience in a GayCities article.

In the clip that Shimkus refers to, comedian and personality Michael Yo discussed the controversy around Sherrie Pie in a segment of The Wendy Williams Show known as 'Inside Scoop.'

Yo tells host Wendy Williams and the audience of the syndicated talk show, "So this Ben guy, said that Sherry Pie catfished him, said she was a casting director, would send emails to him, back and forth, getting him to do lewd things…like masturbating on audition tapes. Is that lewd enough for you?"

"I mean, why didn't these people do research?" Yo asks about the catfishing victims. "I'm not blaming them, but they're young, the guys are young – they're 23, 24 years old, trying to get their big break…so, man, but you have to do the research."

Williams and Yo also giggle about the name of one of Sherry Pie's fake movies that he pretended to cast for, "Bulk".

In his article, Shimkus talks about how Yo told the story incorrectly in a "dismissive and vapid" segment
---
Court rules people cannot define themselves as gender-neutral on passports
A court has ruled that people cannot define themselves as gender-neutral on passports.

Christie Elan-Cane, who identifies as non-gendered, brought a challenge to the Court of Appeal arguing that passports should include an "X" category for individuals who identify as gender-neutral, non-binary, intersex or other.

They believe that the UK's current passport application process, which requires individuals to identify themselves as either male or female, is "inherently discriminatory" and infringes the right to privacy.

But the appeal was dismissed by senior judges, who said the policy is not unlawful. It's a decision Christie has described as "devastating".
---