Movies Posts Tagged as 'Retread'
---
Rating key:
Welcome to Errattic! We encourage you to customize the type of information you see here by clicking the Preferences link on the top of this page.
My Policeman (2022)
A very soft policeman. Harry Styles keeps it monotone and unenthusiastic. He pants oddly during blowjobs and he can't kiss for shit. His "s's" and "t's" were so crisp that I thought his accent was fake. I wanted to shake him. I came in the first few minutes and never got a hardon again. I felt like leaving so many times but felt obligated to stay. We prefer to talk about our olden times instead of setting a better path with a real story from today. We can be honest about the past without it burning us in the present. The laws have changed but we have not. It's 50s Britain, where cops live in Tarduses, aging twinks can become cops, twink cops get picked up by perverts and an innocent girl trashes her entire life so her husband and their bff can enjoy gay sex. Emotions run cold. Everything is so quiet and unassuming that you sometimes believe one of the lovers might be serial. P.S.: gays are only miserable at the end of their lives, all else is just fun.
05-Nov-2022
---
Hocus Pocus 2 (2022)
The witches are back to eat a delicacy known as colored children. No one works harder than Bette and nobody outflanks her. It's her boat. The treat is hard Halloween candy that sometimes melts in your mouth. The trick is to watch without prejudice.
01-Oct-2022
---
Blonde (2022)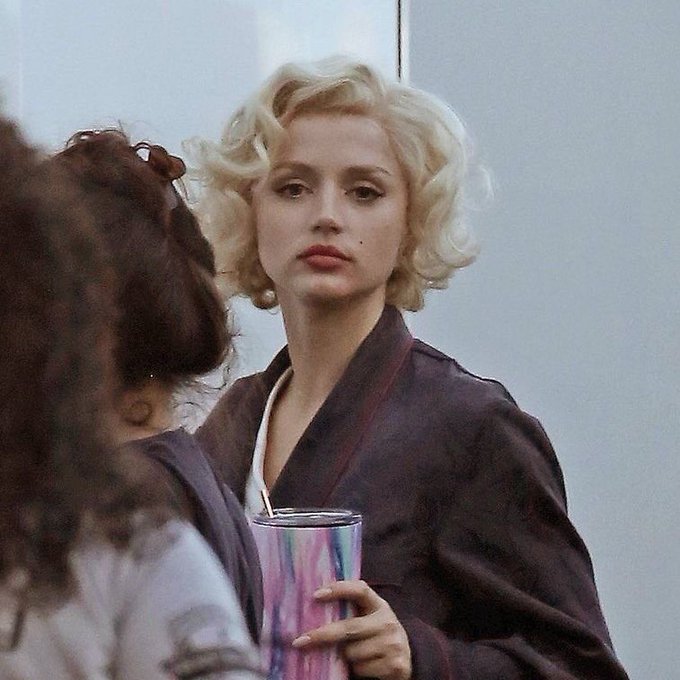 Another depressed mother dooms a fabulous child into living a miserable life. De Armas is studied and emotionally frazzled but at times, she distracted me by resembling Lady Gaga. Details and relationships are scat as it relies heavily on an icon who shrinks into childhood oblivion whenever something goes wrong in her life. The film allows the woman little joy and constant paranoia.
28-Sep-2022
---
Texas Chainsaw Massacre (2022)
Scripting black people to complain about cops and confederate flags is not thoughtful. Killing all the black actors anyway, is not giving a shit. Making me confused about female sexuality is a useless gay time thing. Leatherface is nothing without family dependability. He was the icing on the family cake. A family that celebrated meat, farming and death. Icing without cake is a blob.
22-Feb-2022
---
Candyman (2021)
Non-movie illustration of why "Oscar So White" is still so prevalent. Candyman is stripped of sensual ferocity, opinion and reason. His myth is re-written and implied by puppetry because the talent wasn't inspired to showcase it. The scares couldn't unhinge a cockroach. The deaths are remote with closeup shots of thick red Kool-aid. The violence is hesitant because most black people are petrified of supernatural violence. It scratches the ghetto but refuses to live in it because black people don't want to return there. Whites have gentrified the ghetto and blacks are mad as hell because they weren't given enough time to make their home livable. "Welfare knocked on my door before I had a chance to straighten up." "Bitch, you know white people can't watch good land go to waste." Blacks with dedication and drive enjoy the gentrified lifestyle while critiquing their hosts and avoiding the nasty parts of their neighborhood. This is all supposed to tie in with a confusing Candyman revenge backstory. The candy was uninspired. It should have looked scrumptious and colorful. It looked like granny's recycled Christmas candy. Only fat kids pick that shit up. It wasn't woke enough to have Colman Domingo fuck Candyman. The film required more gays so Candyman could kill the two. Too bad. In what world are there more cops in the neighborhood than community?
31-Jan-2022
---
Bruised (2021)
The film describes a violent female as a failed mother/wife/child whose rage needs to be re-directed towards a profit. A killer that knows when to stop is a champion. They don't fight to save the world but themselves. Halle's fighter is homeless, negative and miserable. She keeps her feelings Eastwood. The boy's tongue was cut because he was either a lousy actor or the audience doesn't need to hear a black boy speak. Hispanics inherit black male stereotypes. Lesbian and mama were ready to sparkle but were given little illumination. It piles cliches without original thinking. I kept hoping she was a secretary with a hot lesbian boss. At least she would have been cute.
28-Nov-2021
---
He's All That (201)
Pleasant nothingness of youth.
06-Oct-2021
---
Maleficent: Mistress Of Evil (2019)
Jolie's Maleficent is a sublime creature that never got a good movie written about her. Her work remains unmatched. Jolie, learning etiquette, was funny and bright. The dinner choreography didn't make sense. Maleficent overreacted when the prospective in-laws hadn't hit her soft spot yet. Her denial of murder should have been the catalyst. Once the scene is set, it skits, stalls, enchants and sentimentalizes. It's better than the first one.
Also, don't call a witch evil unless she eats babies.
21-Jan-2021
---
Alice Through The Looking Glass (2016)
Alice trips that she's a pirate, the savior of the unrighteous (Mad Hatter) and a liberated heroine. Hahahahahahahahah.
18-Jan-2021
---
Babysitter, The: Killer Queen (2020)
Everything remembered is welcome, the leap from kid to tween is maternally sweet but the whole is missing something. A foot in reality, a step forward and a babysitter. That's what I missed.
17-Sep-2020
---
Old Guard, The (2020)
PC vampires arrive in woke world. They no longer bite but still have the ability to suck.
Charlize Theron squelches her sexuality to deliver macho posturing and adds no strength to female action fabulosity. A woman who obscures her sexuality is depriving the act of confidence and beauty. She was so serious and miserable.
The gays were cute for the moments they accessorized but the corn deep throated them.
The superpowers are not enviable and is a filmic excuse to watch people bleed out.
The "big bads" couldn't scare a bird away.
The story is refried beans with lesser ingredients and the action came straight out the can.
14-Jul-2020
---
Eurovision Song Contest (2020)
Brother/sister romance tackle art and temptation at a song contest.
Will Ferrell's character's age kept gnawing at me. How old is he supposed to be? How old is his sister? His father? Ferrell plays the eternal kid that refuses to wear big boy britches even for comfort. Ours.
Rachel McAdams deserved a singing partner.
Dan Stevens left it at the Abbey. He should go pick it up.
I knew it was Demi Lovato before I saw her. It was the screaming.
The music is way too silly to enjoy, coming in constant waves of annoyance. I don't care what the rules are, sing it live. Too much?
01-Jul-2020
---
Villains (2019)
It's a waste of a title. Young couple break-in to a wacko family home and tables get turned. If the key to the story is madness why not explain it understandably so we can ponder it. They borrowed it, splattered it and hoped for the best. All actors were on game but Skarsgard's talent magnet pulls you in. He's an intrepid bloke.
06-Mar-2020
---