Movies Posts Tagged as 'Writ Thoughtful'
---
Rating key:
Welcome to Errattic! We encourage you to customize the type of information you see here by clicking the Preferences link on the top of this page.
Everything Everywhere All At Once (2022)
It begins with family authenticity, struggling to keep current and afloat. Super reality sets in and the tingles begin. Oh no! It's going to be bonkers. The cast resolves it. I wasn't sure if the husband was Jackie Chan. I spent a lot of the time being jealous of how young he looked. It was driving me crazy. He can't be, right? When he utilized the master's moves, I thought, that's definitely Jackie Chan. It's a tribute to him and Michelle Yeoh as action heroes but why does he look so fucking young? Terrific surgery perhaps? Ke Huy Quan is as adorable now as he was as a kid in a Spielberg classic. The man was precise. To Lady Yeoh, we gently bow. Stephanie Hsu had fun being all iterations of evil because we had fun too. Jamie Lee Curtis was gnarly. James Hong added his queerisms. The film threw as many cliches as it did new ideas. A win win for art. A film that wipes its imperfections with glorious shots of legends reacting to wonder and giving us soul.
27-Nov-2022
---
Wonder, The (2022)
A child fasts to appease god and clear her family of their sins. Faith, in the hands of a child, can be a destructive thing. Pugh remains on, for the duration, as an investigative nurse that wants to clear the bullshit. The director keeps us trapped and enrapt. You can only fight a fable by trading it for another. Well done.
17-Nov-2022
---
Good Nurse, The (2022)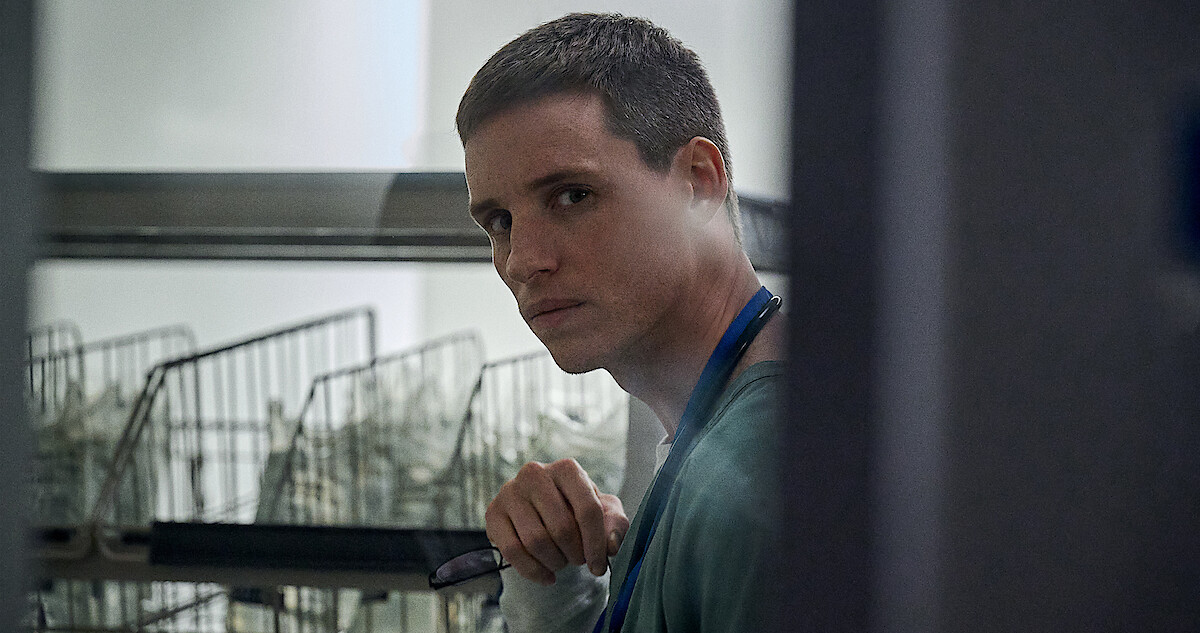 The angel of death is serving the ill and forgotten whilst deciding which deserves to stay amongst us. Lady Chastain introduces the audience to her pain, which we inhale and feel 'til the very end. Asomugha and Emmerich teamed up nicely. Hot boy proving he can investigate using his brain and Daddy Emmerich twitching the way I like. The cast didn't miss a beat, the story was tight, the procession, intriguing and the recapture well plated. Lord Redmayne spends a lot of the time hiding from view because that is how the angel of death would appear at work. Do a great job, kill them with kindness, keep history mum, don't be popular but make one sucker friend and kill up to a 1000 people. I couldn't believe that Redmayne would play a killer so controlled and unassuming until he outrants Ledger's Joker at the police station. I was inhaling Jessica's air when he punched me in the gut. Nice.
27-Oct-2022
---
Last Woman On Earth, The (1960)
While on a scuba diving expedition in Puerto Rico a newly married couple and their lawyer end up the last humans on earth when they resurface. They survive and explain the cause through the progression of the environment and by applying science to their observations. Words were in tune with how a woman might feel being the last one. The men went caveman because the lawyer has needs and his boss' wife was the only relief. I kept feeling the script would have had more depth had it not been costly. Wife is a newlywed who lusts to spend more time with her gangster husband. Lawyer is a do-gooder schmuck whose tired of being manipulated by sore losers. Every time the story filled in a hole the director cut away to something exotic. They hardly pondered whether, as last adults, they were worthy enough to replenish the earth. Wife's legs dangling from atop the boat, the men fish-slapping each other, the atmosphere (Puerto Ricans in 1960), the woman's hair turning from blonde to black and jitter acting that enunciates realness, were shots I will remember.
Remake. (Pssst: I would have given her my sperm and fucked daddy. Yeah, let her decide the future of the world.)
25-Oct-2022
---
A Doll's House (1973)
A woman moving in with a man must turn the home into a dollhouse in order to make her feel like she owns it. She owns him as much as he thinks he owns her, but a toy is the only home she will ever get to own. The cast played it without pity, the story excelled as it moved, even though status has changed, emotions remain the same and Jane Fonda flexed some beautiful muscles. Freedom comes after you stop lying to yourself. A real Christmas story.
17-Oct-2022
---
Hellraiser (2022)
Women commanding the gates of hell with a distorted Vogue look. The story is simple, shoots straight and pummels. Beauty is desecrated, the mind becomes distorted, anyone can be a sacrifice and the victims can fight back. The box has personality, the characters supply empathy and the deaths are nerve rackingly clever. Make-up, costume and effects wowed. A lady Pinhead origin story with lots of sex and violence would be most welcome.
09-Oct-2022
---
Fullmetal Alchemist The Revenge of Scar (2022)
I was enthralled with the animated version because the mythology was expansive, well explained and the leads were cute and courageous. An alchemy accident causes two brothers to drastically change and adapt to auto survival skills through a shady world. The Big Bads were vibrant, the fights creative. The live version lets us remember and appreciate the spectacle without superceding it.
21-Aug-2022
---
I Passed For White (1960)
Interracial girl struggles with her identity as a negro. Her career options are minimal and love opportunities arise from worst circumstances. God made her white and she needs to embrace it. She leaves her family and hut to explore buildings, money, pretty men, clothes, food and such. She ignores her nature and becomes the body she possesses, a woman with great choices and big mistakes. A Ken Doll makes her forget where she was born and she forgets about her family. The film has anger, insight, respect and hilarity. My favorite scene happens at a fancy business event where she dances like a black girl and the white guests notice.
28-Apr-2022
---
Wonderland (2003)
The washed up male porn star with a huge dick cliche. His 14" cock was the ladder that should have saved the world. John Holmes was a porn king who sold his soul to the devil to continue to do drugs and have sex. John Holmes was either the mastermind that plotted the worst heist of his life or he was really dumb. Baby Kate Bosworth was a great young innocent in love with the aura of a "man." Lisa Kudrow was Beatrice Straight from Network. Underwritten, marvelous and powerful. She didn't flinch. Val Kilmer softens the big cock brute by being genuine. The reenactments of what occurred that fateful night raced to a satisfying conclusion.
04-Apr-2022
---
Throne Of Blood (1957)
Kurosawa's imagining of Macbeth was intoxicating. He lingered until we felt the character's desperation. The background was still and intimidating. The actors wore silent film faces with impassioned speak. Toshiro Mifune was a beast royale as MacBeth. Isuzu Yamada was fabulously haunting as his Lady. The rustle of her dress, the scary predictions, the make-up and bouts of violent madness. She was a favorite thing. Deaths were choreographed with coherent math and geography. Inspiration is achieved. Masterpiece recreation is impossible because the best things in it happened by accident.
28-Mar-2022
---
Turning Red (2022)
Child's emotions are awakened when she experiences Leak Week. A family curse has her turning into a fuzzy red panda that transforms her life and liberates her loins. She's becoming a woman. The family wants to keep the hairy beast on the downlow but children can't be remote controlled. The child keeps it padded with the support of friends and the hope to attend a concert of sex gods (a boy band.) The film is fresh, the music is sprite and the art is gorgeous.
20-Mar-2022
---
Humoresque (1946)
Like Batman I focused on a minor detail that should have gotten someone fired and the picture burnt. Ms. Crawford's leg looks beat up. Is it make-up? Is it black nail polish? Did she fall down a flight of stairs? Are those surgery scars? Is that why she's sitting? Was she secretly dirty? It looks awful.
14-Mar-2022
Should you expect payback for endorsing a genius? The film ponders it and applies solutions. John Garfield was born to play broke hot daddies with genius and obsessive compulsions. Joan Crawford always "manned up" to cure them. Ms. Crawford was almost comical until she put on a pair of glasses and blossomed into a bona fide artist. It was classic thespian. The parents' interjection seemed appropriate to the traditions of a hard working family. The family worked to establish a genius and survive. Mama and papa were the mama and papa that lucky children got. Papa looked out while mama cared a lot. Flashbacks were insightful. Ms. Crawford was fashionably tailored to her specifications. The story happens. Oscar Levant was the wisecracking loser that coasted from genius because he failed on his own. He spoke the uncomfortable words the "damned" never listened to because he wasn't "hot." Funny.
04-Mar-2022
---
Adam Project, The (2022)
Super daddy, a chunk (of meat) and his mini spar through time travel to end time travel. Sci-fi is comic book, action is diverting, writing is pensive but the three leads hold it together. The boy mimicked an asshole just like Ryan Reynolds would. Mark Ruffalo is a war torn daddy born to parent an asshole. The wattage, the funny, the adorable and the sweet were all there.
13-Mar-2022
---
Don't Breathe 2 (2021)
Blindman wants to remain a dot, raising a stolen daughter, being stealthy and 100% sexless when it should be the opposite. Pervert! The child gets to choose the lesser of two evils. That's not fair. We get to know who the asshole is before the mystery begins. The clues to existence are ludicrous. Daddy's fun, kid has moments, all is a statement of life insecurity, terror and failure. The violence is pretty good.
12-Mar-2022
---
Texas Chainsaw 3D (2013)
Apt sequel that glamorizes its predecessor and makes Leatherface a hero. It's a chill, spook and gay spectacular.
06-Mar-2022
---