Movies Posts Tagged as 'Depressing'
---
Rating key:
Welcome to Errattic! We encourage you to customize the type of information you see here by clicking the Preferences link on the top of this page.
Martyrs (2008)
The only way women can see the light is if they get punished for being women. The opener cues you in, the orphanage grants the characters humanity, the grown up versions are psychotic, the violence is pukey and the horror is inane. The more intimate the story, the bigger the chills. Here, the bigger the story, the more impossible it sounds. I do not get off on seeing women beat and suffering endlessly esp. for stupid reasons, but I realized that lesbians might. The film avoids sex as a respect to all women. Dude, I'd rather go back in time and get raped again than suffer through this.
17-Oct-2022
---
Blonde (2022)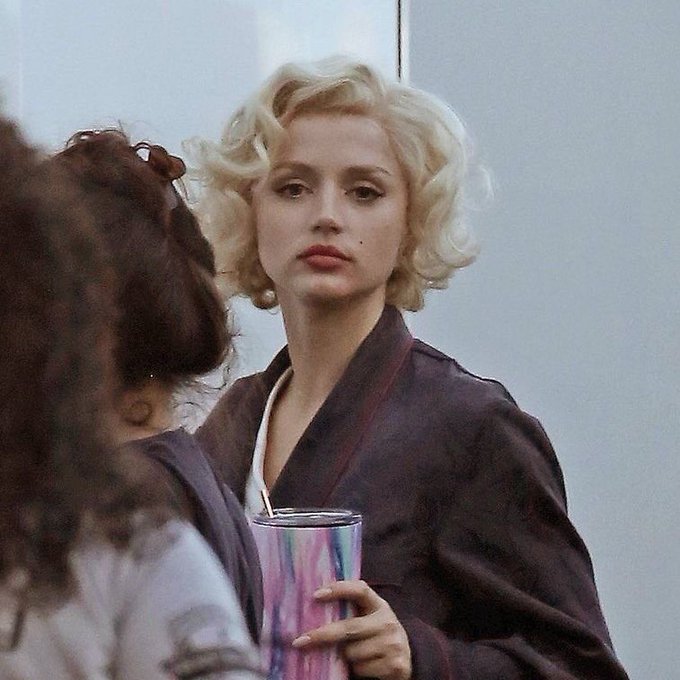 Another depressed mother dooms a fabulous child into living a miserable life. De Armas is studied and emotionally frazzled but at times, she distracted me by resembling Lady Gaga. Details and relationships are scat as it relies heavily on an icon who shrinks into childhood oblivion whenever something goes wrong in her life. The film allows the woman little joy and constant paranoia.
28-Sep-2022
---
Antlers (2021)
It makes you ponder things not worth a hill of beans because saying "hello" is not the same as "how are you?" They hired a mama and papa wrecker to be abused by a legend that is more of a stereotype than a mystery. The kids are nasty. I was highly insulted.
22-Feb-2022
---
The premise is too outrageous to describe. Nerd becomes "toxic man" when he meets the inaccessible woman of his dreams. He lives in a game and not. I pondered. Is Ryan Reynolds funnier when the makers convince him it isn't supposed to be funny? Who knows. I accidentally turned on deaf of hearing mode and was perturbed by the narrator describing every fucking single thing that happened. I thought, what an annoying piece of shit then I realized the goof. Oops. I corrected it and fell asleep. I will review it properly later, or not. There wasn't much to like.
28-Dec-2021
---
Power Of The Dog, The (2021)
There is no dog in sight. Teen with effeminate ways grabs the attention of the town bully and gets a crush on him. Son is subjected to alpha humiliation that gives him a hard-on which makes mother heartbroken yet keeps boy obsessed with tempting the savage. She marries the bully's brother and moves into the bully's home where he finishes her son off. Cumberbatch has no idea what a cowboy is. He jangles and jingles with exaggerated sounds of the west and comical highwaters but only his butt stood out. His pronunciation of "fatso" held no effect because he didn't know what the fuck it was. It's not a fact, it's a genial insult. His slow drawl compensates for an accent with no attachment to history. He is miscast because the safety of the participants prevails great art. No one is going to take a chance on a toxic male presence for reality's sake. Rick from The Walking Dead would have made a savage cowboy. Jane Campion is obsessed with certain keys of the piano and noises that no one else finds comforting. Kirsten Dunst would have given an award worthy performance if someone had written her one. Her character is scattered and listless. Hiring a tall boy doesn't diminish the film going Brokeback with a child. The film may not consummate it but we're not stupid. Jane Campion spends so much time lingering that the thought is lost.
06-Dec-2021
---
Bruised (2021)
The film describes a violent female as a failed mother/wife/child whose rage needs to be re-directed towards a profit. A killer that knows when to stop is a champion. They don't fight to save the world but themselves. Halle's fighter is homeless, negative and miserable. She keeps her feelings Eastwood. The boy's tongue was cut because he was either a lousy actor or the audience doesn't need to hear a black boy speak. Hispanics inherit black male stereotypes. Lesbian and mama were ready to sparkle but were given little illumination. It piles cliches without original thinking. I kept hoping she was a secretary with a hot lesbian boss. At least she would have been cute.
28-Nov-2021
---
Margot Robbie can't queef a joyous Harley, Joel Kinnaman misplaced his acting capabilities and Nathan Fillion can't squish anymore. Pete Davidson came and went, Viola gave it more than it deserved and the whole was obliterated by Cena and his tighty whites. The film has guts. it needs them to deal with an army of superhero ninnies.
02-Nov-2021
---
Fear Street Part Two: 1978 (2021)
Someone needs to tell little girls that they are not the only spectacular creatures in the world. If you want to keep your coffee hot, keep heating it. It was lukewarm.
15-Jul-2021
---
Woman In The Window (2021)
A cheap thriller receiving attention because an acting powerhouse is in it. Production invited stellar actors to deliver supporting one notes. Why bother? The writers and director are faulted for having no perceptive style and for thinking that hiding and boo is the only adult scare tactic. I would have fired them, handed the camera to Amy and told the actors to wing it.
21-May-2021
---
Elizabeth Harvest (2018)
Mad genius harvests wife until she gets it right. Ciaran Hinds does as he looks with no surprises. A better intro to Elizabeth's beginnings might have given the character depth because in the present, she's a dope. Carla Gugino wasted her brilliant cream and Matthew Beard creeped me out. The process of thinking is so wasteful.
14-May-2021
---
Block Island Sound, The (2020)
Wildlife is dying rapidly, daddy is acting strange, daughter has returned to investigate and brother is losing it. A conspiracy theorist is onboard to tell us what creativity can't show us and another sister joins to hate, mostly her brother. The ending is "WhyTF did I waste my time watching this shit?"
25-Mar-2021
---
Star Wars: The Phantom Menace (1999)
I went retro and revisited some films that weren't to my liking. If it weren't for Lucas magic this film would be one of the worst. The child. Poor thing. No training, no soul. I would have skipped to the Superboy years one second after the awesome pod race. Liam Neeson didn't seem taken by the force. The words meant nothing to him. It was a job. MacGregor's head moved stiffly and he looked like he cracked up before and after many line readings. Jar Jar Binks was created by party people with no exceeding limits. I watched him drunk and still found him annoying. Natalie Portman must have looked blankly at countless fake CGI things because she applied it to humans as well. The voice she inflected was cockamamie and infectious. Yoda isn't as cute as The Child. At all. Blathering old idiot. Robes don't flow in saber fights and future love relations are not impactful if one babysat the other. The director worked beyond the force. The fans publicly cheered while quietly sighing. Darth Maul was a pocket. It makes a good game but not a good film.
02-Feb-2021
---
Alice Through The Looking Glass (2016)
Alice trips that she's a pirate, the savior of the unrighteous (Mad Hatter) and a liberated heroine. Hahahahahahahahah.
18-Jan-2021
---
Home For The Holidays (1995)
Rabid family holiday. Foster's mind is a jumble. Flamboyantly directed, fussed over and disrespected. Robert Downey Jr.'s gay brother flitted about like a crazed woodpecker perching and flapping uncontrollably to our discomfort and limited endurance. Giving a cute girl the sniffles for the entirety of a film is not romantic or sexy. It's a family home visit without the drinks. Where's the fun in that?
05-Dec-2020
---
Boys In The Band, The (2020)
The original was about mean queens celebrating a birthday whilst eviscerating each other. The remake tones down the queen and ups the hostility and humiliation. This is a most difficult success story to digest. Jim Parsons gobbles it up like it's the last dick he's gonna suck, Charlie Carver gets to squirt but not emote, Matt Bomer exhibited his ass and it was riveting and Zachary Quinto wore an afro sheen wig. It all isn't nicety and rainbows in our community and it elaborates on it without resolving it. The black band member did not walk out when his friend uttered the "n" word towards him and he didn't walk out when he sang it to him a second time. Friends do not call each other that. It would be over. This is where you insert daddy Ryan's skewered politically correct irrationality and award a character some self-respect. It depicts the hellish parts of the gay community that is always shining in the dark and slams your head against the wall with it.
01-Oct-2020
---